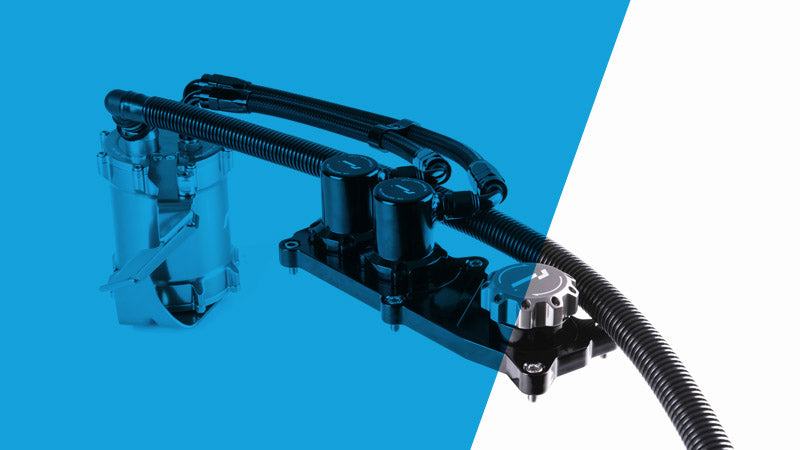 Product Spotlight: Racingline B9 S4 / S5 EA839 3.0T Catch Can System
Oh boy, it's finally here! Not long ago, we caught wind that Racingline was going to release the holy grail of catch can solutions for the EA839 3.0T found in the S4 / S5 / SQ5. Very happy to share that it is REAL and it is SPECTACULAR! No really, it is. We first put hands on this piece at Waterfest and were super thrilled with the build quality of the piece, but then again who isn't thrilled with the quality of Racingline products!? If you've never held or even unboxed a Racingline product, now is the time!

The Deets:

Racingline's EA839 3.0T Catch Can System replaces the factory PCV with a beautiful black anodized replacement block and internally baffled catch can tank to keep your intercooler and inlet tracts free from oil residue build-up and provide clean airflow through the intake manifold. This catch can system far exceeds our expectations in both function and form. The PCV block feeds to the catch can itself via two -6AN hose lines. These oil lines feature an attractive outer nylon braid strengthened by a stainless-steel inner weave for maximum resilience.

The can itself is constructed from extruded aerospace-grade 6061 aluminum then CNC machined before being coated in a unique "Liquid Titanium" anodized finish. The can features a three-way baffled internal system that effectively collects excess moisture and oil vapor. If you run e85, this will also be super beneficial to you as ethanol has a lovely habit of finding it's way into the tracts of your system.

This is all tied together with very simple, yet effective pressed aluminum mounts to affix the catch can at the rear of the engine bay. Don't worry, you can still retain your factory engine cover – whew. The brucie bonus on this catch can system is the dipstick for quick level checking. The can does come apart very quickly and easily for maintenance and cleaning – don't stress.

If you've been waiting for that next badass part for your B9 S4 / S5 / SQ5, this is it! The Racingline Catch Can System is sure to not only aid in keeping that engine a bit cleaner but also add some spice to your engine bay!

Check out more photos and information on the product page here at ORT Motorsport!